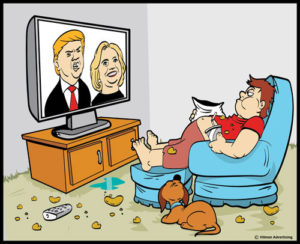 Attention: Huge Savings & Free Gifts are involved…
Make America Clean Again!!!
You Should Only Read This If You Have Been Brainwashed Into Thinking That You Don't Have A Choice This Election
Politics is a dirty business
Vote for the "Clean" candidate!
You stay glued to the television to see who's ahead in the polls. While you watch all the mud slinging commercials and debates, you forget about normal life and spill drinks, drop crumbs, and maybe even forget to let the dog outside.
Well,we can help.
Making America Clean Starts With Making Your Home Clean!
Everyone is too caught up in the election to notice how dirty their home is getting. So, we decided to put out this "Presidential" special offer.
When you have us come to your home or business for ANY carpet cleaning, tile or floor cleaning, area rug cleaning, or upholstery cleaning of $150 or greater, we'll give you $50 in FREE additional cleaning.
Take advantage of this "Presidential" special offer:
$50 in FREE Cleaning with ANY Cleaning Purchase of $150 or More
Book any cleaning of $150 or more and you'll get $50 in additional cleaning FREE.
Not valid with other offers. Normal minimums apply.
You MUST ask for the "Presidential" special offer and print and present this coupon at the time of cleaning and make your appointment before election day, November 8, 2016.
VOTE for Clean! Give us a call at (770) 892-5656
Sincerely,
Norman Koenighaus
The "Clean" Candidate